November, 2004:
- At the beginning of November we have received very interesting mail from Joao Parahyba, a percussionist who worked a lot with Suba in Brazil. He offered to send us some unreleased songs that Suba did in Brazil. First of those songs that found a way to us is "Ipanema" a rare hommage to Mr. bossa nova Joao Gilberto. Suba never showed this song to Joao Gilberto, afraid of his reaction, even when they became good friends. Enjoy and let us now you impressions! - Ipanema
- On November 2nd at Youths Theater in Novi Sad will be held a premiere of a ballet play inspired by music of Mitar Subotic Suba "Rex Ilusivii in vitro". Author, director and choreographer of this play is Aleksandra Ketig

- project "Kingdom Of Illusions " that started last year with a serials of manifestations in Belgrade, Novi Sad and Linz continues again this year:
Tuesday 02.11.2004.
Cultural Center, Novi Sad- Hommage for SUBA
22:00h
live on stage:
Roland von der Aist (electronics)
Der fette König // The Fat King (electronics)
Werner Puntigam (trombone & shell)
23:00h Video Presentation
The Citizens of Kingdom of Illusions
compiled by Josef Gaffl
Wednesday 03.11.2004.
Media Center Kuda.org, Novi Sad
15 - 17h
Open Discussion & Citizen Workshop: VISION 2010 (About cooperation without borders)
Moderation:
Dejan Ubovic (Cross Radio, Belgrade)
Josef Gaffl (Kingdom of Illusions , Linz/A)
Ruza Subotic (Novi Sad/SCG)
Thursday 04.11.2004.
Hotel Balkan, Belgrade
15 - 17h
Open Discussion & Citizen Workshop: VISION 2010 (About cooperation without borders)

Friday 05.11.2004.
club Akademija, Belgrade
Suba Night 2004
Live on stage
Roland von der Aist (temp reckords, backlab collective) A
Der fette Konig - The fat king(backlab collective, liquid radio FM4) A
Mieze - "little cat" (!reckords, backlab collective) A
Raimon (temp-reckord,backlab collective) A
Deejays
FLIP / breaklogic / EWOX / electrodistribucija/electric factory
RAGGAVUK / trench town rockers/
CALIGARI /tekNOIR/ SCG
ROLLERCOASTER /backlab collective, radio FRO linz/ A
ALEXX AIYAX / bushido recordings, samsara/ A
AKA TELL/ backlab collective, young rotations/ A
MISTER SPOOK / real.time.vienna/ A
HILBERG /dns reckords/ A
D-Tex /radio FRO linz, samsara/ A
Video "Kingdom of illusions" by Jogapixx
Entrance: till 00h 250, after 00h 350 dinars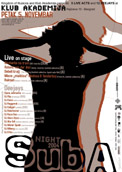 October, 2003:
- project "Kingdom Of Illusions", dedicated to Suba will be presented in Belgrade and Novi Sad
Friday 31.11.2003.
Embassy of Austria in Belgrade, presentation of the project "kingdom of illusions"
authors:

> ivan tobic (Belgrade)
> paul divjak (Vienna)
music:
> bernhard fleischmann (Vienna)
> patricia enig. aka irradiation l (Vienna)
> werner puntigam (Linz)
Saturday 01.11.2003.
Club Akademija, Beograd
electronic music live acts @ akademija
> irradiation (temp~records, Vienna)
> bernhard fleischmann (charhizma records, Vienna)
sound selectors // deejays @ akademija
> belgradeyard sound system (radio B92 // festival dispatch // ContactEurope.03)
> dj stefan viehbock (backlab collective austria // motherland linz // ContactEurope.03)
> josef gaffl (organisator of the >festival echt.zeit> (real.time) // ContactEurope.03)
> electric factory belgrade
Sunday 02.11.2003.
Novi Sad
> bernhard fleischmann (Vienna)
> irradiation (Vienna)
> werner puntigam (Linz)
- the 3rd real.time.festival - festival dedicated to Mitar Subotic - Suba will happen on November 24th and November 25th, 2003 under the topic "art is the memory of time" with the participation of the author Jiri Grusa, who is the current Embassador of Czech Republic in Austria, the Austrian gipsy guitar legend Harry Stoijka and the electronic music composer Bernhard Fleischmann - among a lot of other artists
october, 2002:
- in the small village Koenigswiesen, Austria, on November the 1st and November 2nd will be held the second real.time.festival dedicated to Mitar Subotic Suba. we are thanksful to the founder Josef Gaffl, who started this project on November 2nd, 2001 for his support and information about the project. more information about the festival can be found at: http://www.hornyphon.at
- special thanks for the support to Mrs. Ruza Subotic
april, 2002:
- compilation "Tributo", Crammed Discs dedicated to Suba by his Brasilian friends is finaly available
- special radio program Cross radio dedicated to Mitar Subotic Suba will be broadcasted on April 5th at 22h CET on Radio B92 soon after it will be broadcasted on other radio stations of Cross Radio (Radio Student, Ljubljana, Radio Student, Zagreb, Radio EFM, Sarajevo, Radio Studio 88, Mostar, Radio 021, Novi Sad and Radio Kojot, Zrenjanin)
- we found more interesting photos at Katia B web site
| | |
| --- | --- |
| | |
| katia b & suba | katia b. bebel gilberto & suba |
march, 2002:
- we found out that Crammed Discs is planing a promotion of Best of Mitar Subotic Suba compilation for April 8th but we'll inform you with more details as soon as we get them
- special radio program Cross Radio dedicated to Suba that is being prepared for a really long time and we announced in May last year is finally to be broadcast in April, should we believe to them this time...
january, 2002:
- Yugoslav daily paper "Danas" published an article about this web site so we wish to thank the author of the article
- soon after publishing of this article the number of visitors on this web site became more frequent and we got e-mails from very interesting people who worked with Suba. Here you can read one of them that was written by Branko Prcic, from Subotica:
" My name is Branko Prcic. You probably never heard about me but I would like to add something about Suba's work.
The hole story is set in the middle of 1986 when Suba and I decided to make some music that will be "easy to listen" and in the same time interesting for the Yugoslav audience. He suggested to do something he tried to do in a song "Plava jutra" ("Blue mornings") with Marina Perazic.
On September 25th 1986. We entered the studio Enco Lesica in Belgrade and recorded a song called "Stidljiva devojka" ("A shy girl"). The second day we did a mix of that song. When we finished it we called Milan Mladenovic and asked him what did he think. After listening it a couple more times and Milan suggestions on December 17th 1986 we recorded a new vocal and the song was ready for the audience. Soon the song became no1 on demo charts but considering that jazz pop in that time didn't have a strong market in those days and neither Suba nor I could find the time to promote it (Milan claimed that we didn't want to promote it) the song just stayed in the archives to remember us of our work together."
- we hope that soon we'll have this song in our download section
november, 2001 - january 2002:
- special radio program"Cross Radio" dedicated to Suba,that was earlier announced for may, 2001 finaly will be broadcasted during the february, 2002. The delay of the radio special was due to the really good preparations that already included contacts with Brazil, France, Croatia etc.
In this radio special you'll have an opportunity to hear: Bebel Gilberto, Katia B, Darko Rundek, Goran Vejvoda, Jovanka Zlatkovic, Zoran Janjetov, Deze Molnar, Marina Perazic...
In organization of this radio special is Bojana Ljubisic, one of the authors of this web site .
- Team of web site is grateful to Nikola Miladinovic for his support, photographs and specially made wallpaper which you can download - right here!
july, 2001:
- after preparations that lasted for several weeks"Tantos Desejos" web site appeared on the internet!
- we got some exclusive photos from Katia B private collection !!!
| | |
| --- | --- |
| | |
| suba in studio | katia b & suba |
may, 2001:
- we found on internet Brazilian web site dedicated to Suba http://www.suba.com.br
- Branka Parlic, Suba's associate at LP "Disillusioned" had two piano concerts in Belgrade on 17th and 18th of May
- in Belgrade music shops we noticed new edition of album "Disillusioned" on CD!
- Radio B92 announced a special radio show dedicated to Suba (Cross Radio, every Friday at 22h)
april, 2001:
- another pirate edition of album "Disillusioned" appeared, extra bonus tracks: "Plava Jutra", "Sex Machine" and "Arabia".
| | |
| --- | --- |
| | |
| milan, suba, tanja - taken from book "Mesto u Mecavi" (A place in snowstorm)- photo by:vladimir radojcic | from album "angel's breath" |